Positive results on the bottom line must be achieved concerning both people and the environment. That is the case at Berendsen, Denmark, where great emphasis has been placed on corporate social and global responsibility. They have adopted an ambitious CSR (Corporate Social Responsibility) strategy that includes the UN's Sustainable Development Goals (Global Goals).
One step into this strategy is the increased use of robots and automation at Berendsen's new cleanroom laundry in Holbaek, Denmark.
"The whole project was largely driven by our desire to create the best possible working environment in production. Of course, the cost-effectiveness of the project is also crucial. Still, the working environment is the primary focus area, which is why we work with a three ROI rather than two, as normal with our investments," says Operation Manager, Kim Thorsøe.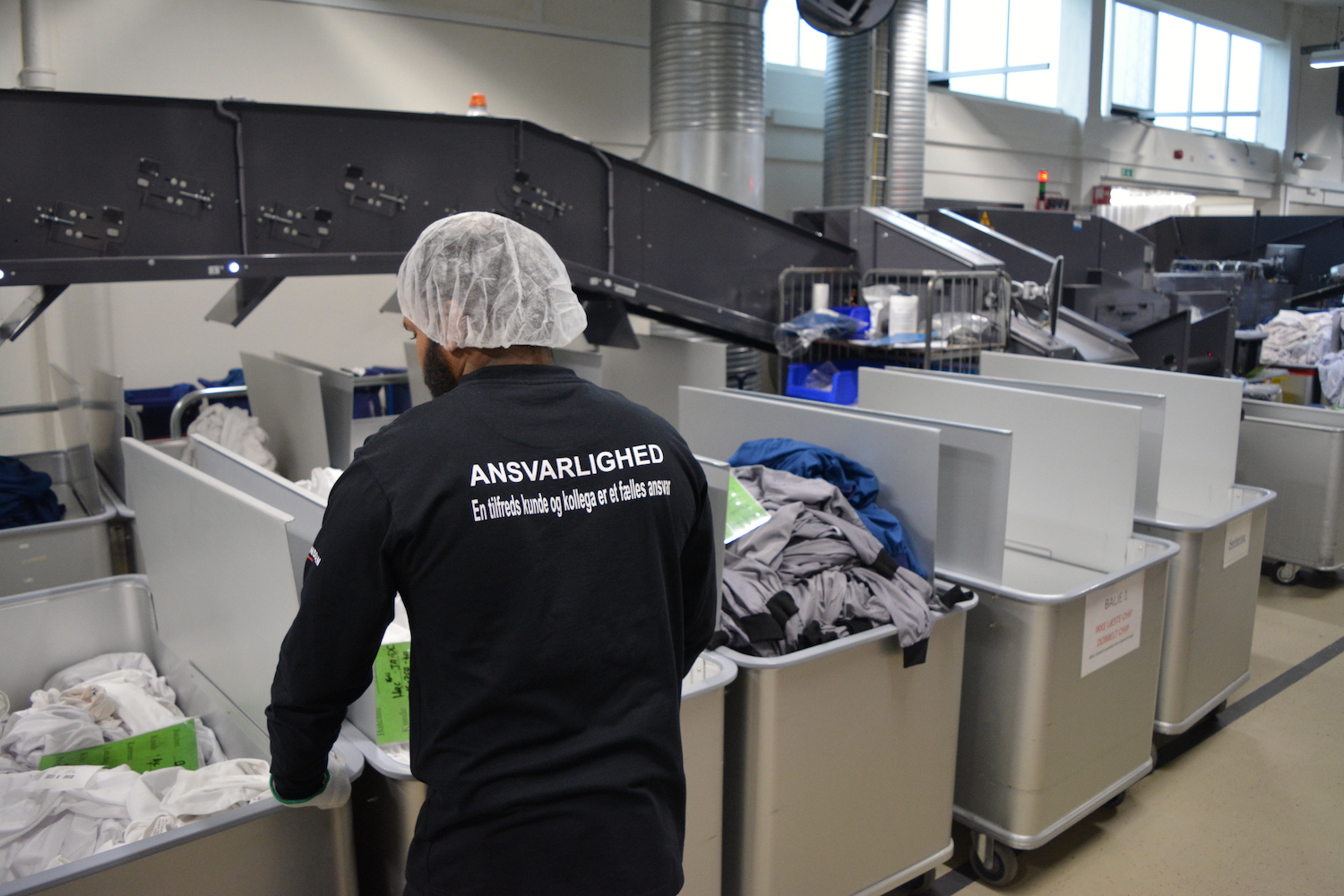 Avoiding heavy, repeated procedures
The total soil side sorting solution includes conveyor belts, a robotic separator, a UHF chip reader, an X-ray scanner, and a dynamic sorting system that allows for eight simultaneous sorting criteria such as washing temperature, color, fabrics and so on.
As an initial part of the project, Kim Thorsøe and his colleagues went through all phases of the production.
"We work hard to avoid undesired work processes, and here we found that the combination of robot and conveyor belt is a combination that can save our employees a lot of monotonous work that does not add value to the process," says Kim Thorsøe.
"In a traditional laundry, the sorting of clothes requires the employee to perform the same lift sometimes over hundreds of times each hour. Obviously, it is interesting when we now have those tasks performed by machines. I also estimated that the conveyor belts save our employees from pushing the trolleys (carts) 5.5 kilometres (3.4 miles) every day. That energy and time can be spent significantly better on other tasks."
The machines benefit both employees and the environment
In addition to the robots and automation being able to save employees from hard work, Kim Thorsøe also points out that the new solution is also an environmental improvement.
"In the past, the right quantities and which wash programs to run was decided individually by the human operator. Instead, today, as all the clothing has a UHF chip, the robot sorts very precisely on washing programs and weight. That ensures that we always use the wash programs, amount of chemistry, and method defined to meet our requirements for environmentally friendly and financially sound production," Kim Thorsøe continues.
In addition to the UHF scanner, the laundry passes an X-ray scanner that searches for potentially dangerous and unwanted items such as pens, keys, needles and the like. Garments that fail on one or the other parameter will not advance in the washing process before a manual check has been performed, but everything else passes on without human assistance needed.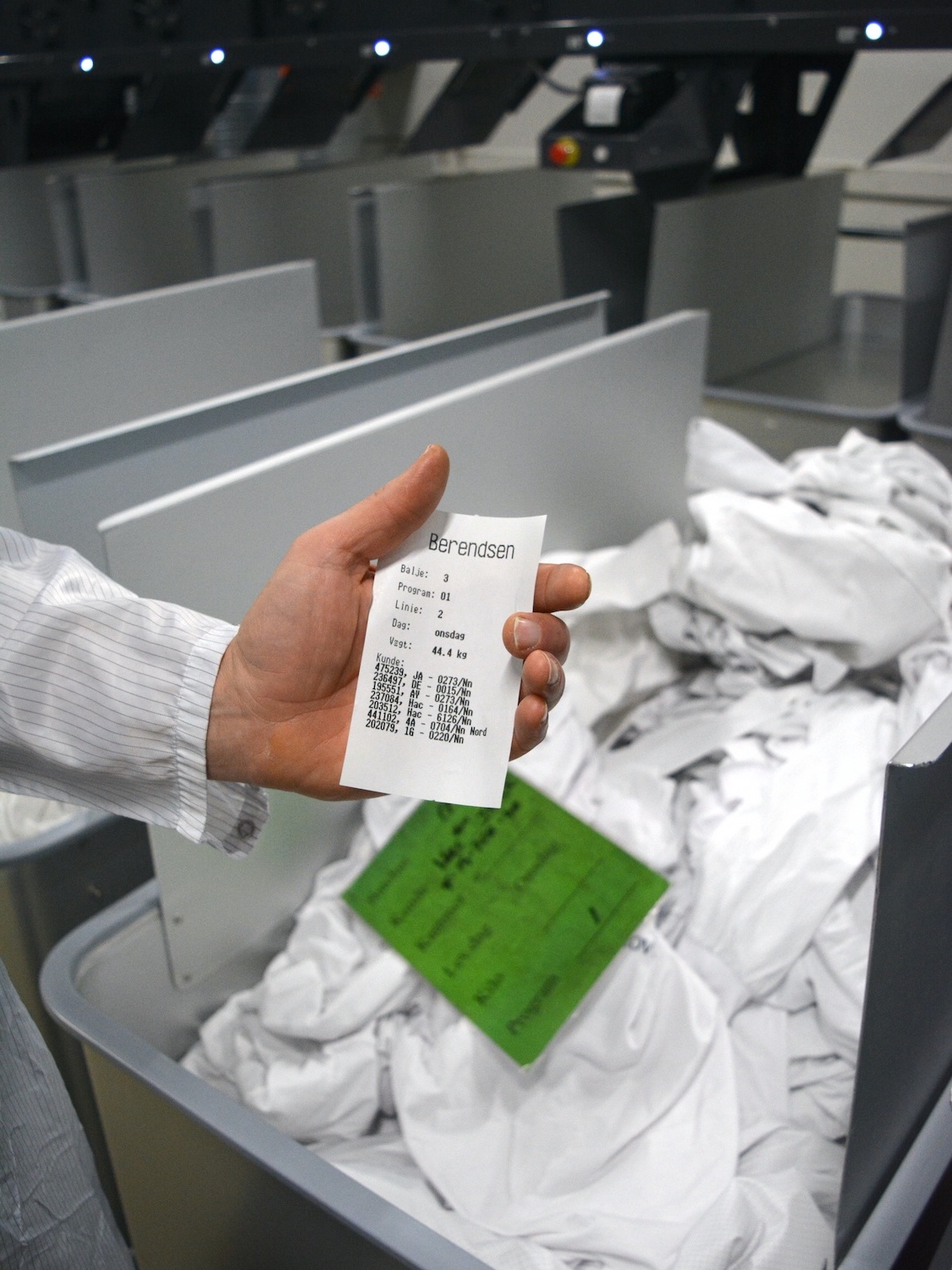 "The new set-up in our cleanroom solves several logistical problems. We can fill up the buffer, so production runs unaided for an hour and a half, for instance, while the employees are on break or lunch — that way we can utilize the maximum capacity without it pushing the staff. Also, with efficiency enhancements, we go from three to two operators, and their functions will also be less rigorous than they were before," Kim Thorsøe says.
Berendsen's product portfolio includes a wide range of services within the rental, washing, and supply of quality textiles and hygiene products, and customers are both public and private companies throughout Denmark.
Berendsen launched a new CSR strategy in September 2019 entitled "Together with a clean conscience". Here, one of the long-term goals for Berendsen is to be Denmark's best workplace in 2030.
Also, in December 2019, Berendsen's efforts following The UN Sustainable Development Goals was certified by Bureau Veritas. Four main areas were selected:
• World Goal # 3: "Health and Well-Being"
• World Goal # 7: "Sustainable Energy"
• World Goal # 8: "Decent Jobs and Economic Growth"
• World Goal # 12: "Responsible consumption and production."