In the late autumn 2017, the Danish Mat Service-company MåtteXpressen in the town of Køge made a complete renewal of the production. The former equipment was changed with a brand-new and highly automated production line.
The reason for this move was simple: Big success from the sales department forced CEO Benjamin Rasmussen to take a close look at the machinery.
"After 14 years of constant growth, we reached a maximum for our production, so we had to think in new solutions. We were working 24 hours a day and four days a week, one day with two shifts and then we had weekend work. There was no way to continue our growth if we did not start thinking about solutions where we could make it more efficient and wash more in less time," Benjamin Rasmussen tells of the thoughts he had before investing in his new setup.
Tripled production volume per hour
"When we washed with the old system, we had two employees on our laundry side at a time. They worked both with in-sorting, sorting and rolling the mats. They washed about 500-600 kilos per hour, today we also have two employees on the team, but they can handle 1500-1600 kilos per hour," Benjamin Rasmussen explains.
"That means that we wash around three times as many kilos of mats with the same labour. In that way, instead of producing 24 hours a day, we can do it within eight hours. Because of that, we could save two-thirds of our staff on the laundry side."
The new system includes an Inwatec setup with an Inlet Buffer and a Mat Carousel that buffers the mats on the dirty and the clean site respectively, and finally, MåtteXpressen has a Hurricane Mat Roller with a sorting system added for the finishing of the mats before they are placed in the storage.
The Inlet Buffer for Mat Laundry helps to sort mats by e.g. material, such as nylon and cotton. The buffer can store up to 16 wash batches of soiled mats of each 100 kg.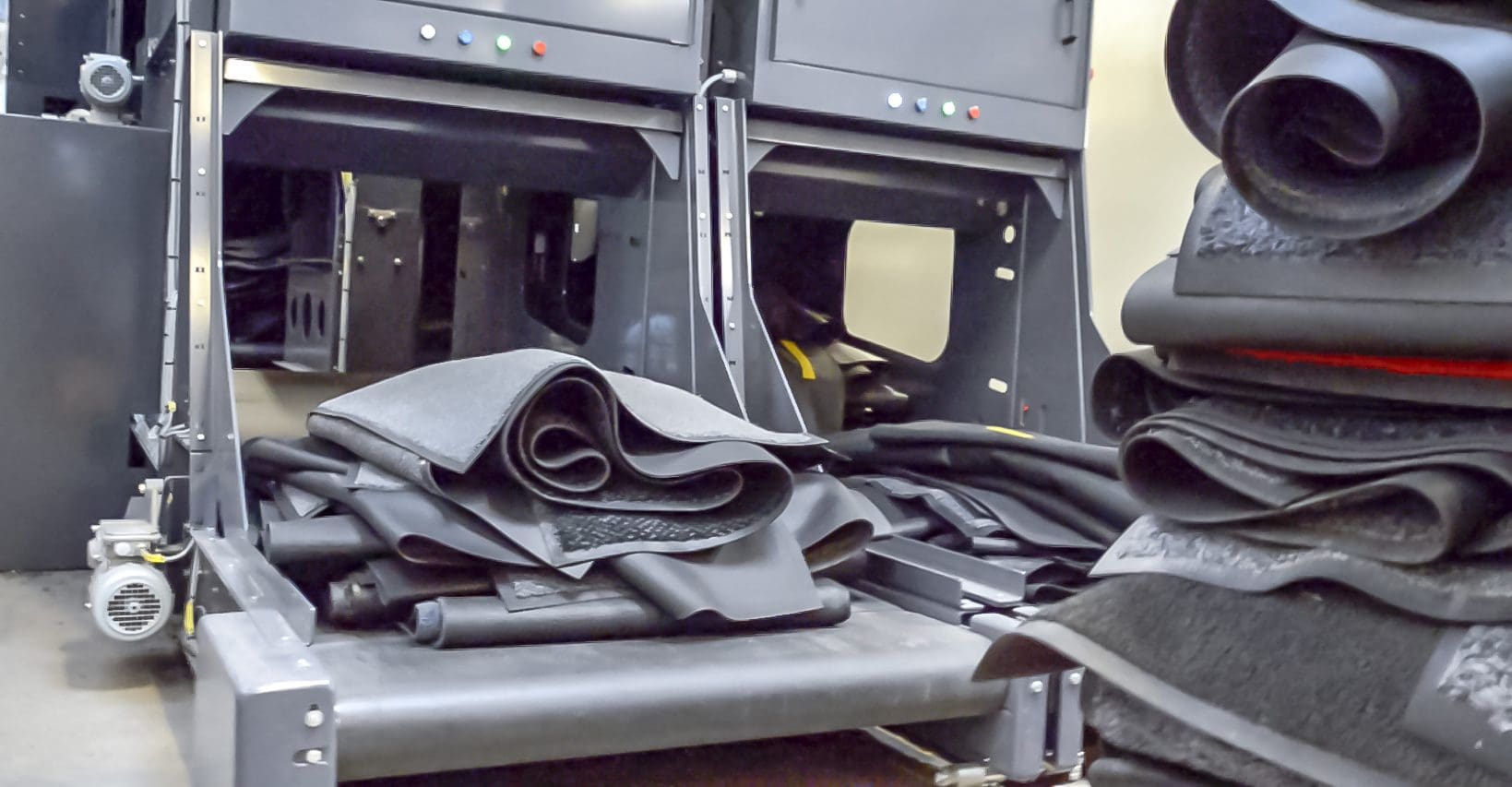 Fast amortization and new growth perspectives
In total, the entire process is now run by two persons at a time, and Benjamin Rasmussen is sure that the investment will make new growth possible and payback in a short time span.
"We have cautiously calculated that we have a payback time of eight years, but I'm sure it's a little faster. We have set the payback relative to the current turnover, and as we expect a growth of 4-5 percent a year, we will have faster payback time," he reckons.
The savings are found in gas, electricity and water because of the shortened work day, and as savings on the crew.
"We have had to say goodbye to some of our laundry staff, which can, of course, be a challenge, but those still here are looking forward to the fact that they do not have as many wearying procedures anymore. I can't see the effect yet, but I'm sure we do not need the same replacements in our staff as we have it less laborious work today," Benjamin Rasmussen tells.