As technology evolves, business opportunities arise for industrial laundries.
An example of the development is found a mere two-hour drive outside of Shanghai in the city of Nantong, where Fornet Laundry Service has a production facility for an unusual customer who runs an internet clothing rental service.
The rental company addresses private customers who can choose which clothes they want to wear in the coming days with an internet-based subscription solution. When the garments need to be washed, they are returned to the rental company, and then the customer can choose another dress, a different pair of other trousers, or something else.
To make the solution profitable and to keep the stock as low as possible, the returned items must be registered, quality assured, sorted, washed and pressed, so everything is ready for the next customer who has ordered it.
This is where Fornet Laundry Services comes into the picture, and in order to secure a fully integrated process the Fornet laundry is located in a building between two warehouses of the rental company.
Simple workstations provide high quality
Among the early investments was an Inwatec RFID sorting system that ensures that the clothes are sorted correctly before washing.
"It is a fascinating challenge when we have to handle so many different types of clothes. We have over 30,000 different garments in the database, and we have them mapped with different sorting logic, so we separate items for dry cleaning and get the right colors and textile types in the right washing machines," explains Lei Pai, Manager at Fornet.
In the unpacking area, the operator unpacks the returned parcel, checks for defects and wear, scans the barcode to update the system, and then attaches the RFID chip with a rubber band. The chip and barcode are then paired in the system database and that way all relevant data on the individual piece of clothing is preserved and processed correctly.
Fornet is using HF-RFID chips, as it is the most suitable in terms of workstations spacing to avoid reading the wrong chip as it could happen with UHF.
"The customer has focused on keeping the workstations as ergonomic as possible, and also the HF-RFID solution made it economically viable to put scanners up at all tables in the unpacking department. That way everything is checked, scanned and marked correctly when the units are put on the conveyor belt that leads to the sorting for further processing, and we can maintain high production capacity without sacrificing quality," Lei Pai states further.
Manual handling with an automatic twist
The initial quality control is carried out by employees, who will, among other things, handle damaged garments. There are no plans to do alternate that part of the setup, but when it comes to the rest of the process, Fornet will automate as much as possible.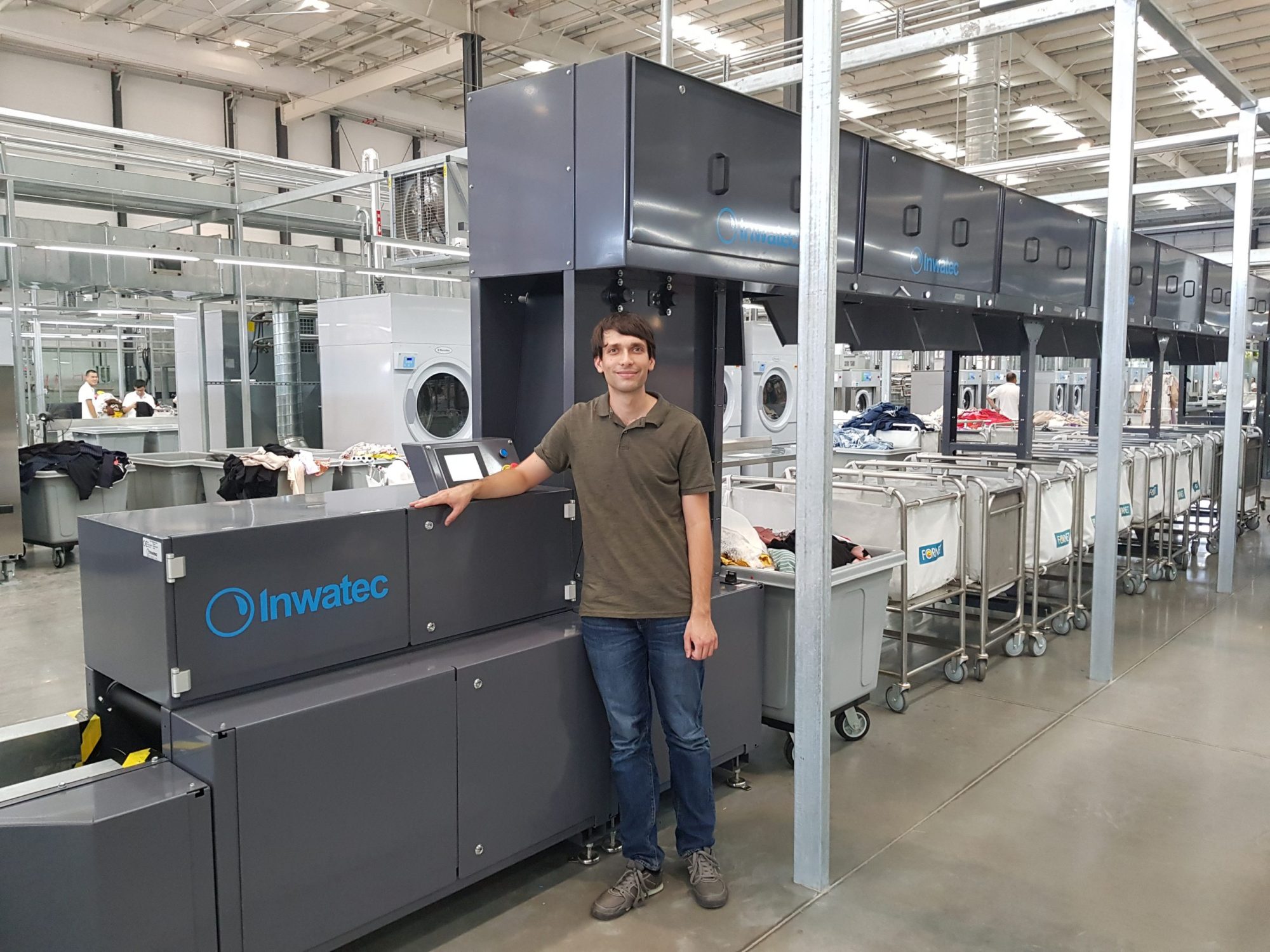 "Sorting is very labour intensive, so it's a big win that we can handle it automatically. We have 13 bins with static sorting to ensure that the same type of garments ends in the same place. If we move the positions we risk more human errors," says Lei Pai, who in early September had a trouble-free grand opening of the laundry with a lot of interested guests.
"We have launched production with an existing inventory, where all garments were not mapped optimally in relation to how it should be washed. However, we are well prepared to adjust that on the run and with all the new garments that come in, we know how to get all parameters correctly set up, and our logic in the sorting can also be optimised accordingly," Lei Pai tells.
Good service and openness
Fornet Laundry Services operates several laundries around China, and since the company previously purchased a larger Inwatec system with x-ray and RFID sorting to a department in Shanghai, there was no hesitation in sending a new order to Denmark when the project in Nantong was to be implemented:
"We were in Denmark to see a system in a hospital, and we realised that it was a great idea for the laundry in Shanghai. The solution has worked as we wanted, and we also had an excellent dialogue about this project too," says Lei Pai, stressing that the distance from Nantong to Inwatec in Odense is irrelevant.
"When we need support for the technology or software, it's always on time, and we were completely confident in choosing Inwatec again. There was no doubt," says Lei Pai.