Interview with Pernille Lundvang, Laundry Manager at MidtVask in Aarhus.
MidtVask in Aarhus, Denmark, is a publicly owned company which only cleans for the public and especially for the hospital industry. 
Here, laundry manager Pernille Lundvang also sees the necessity to improve efficiency for lowering prices – and thus stay in the fight for public tenders, which are the only ones the laundry are allowed bid in on as a publicly owned company.
For the same reason, the 150 employees, which are distributed in almost 40 nationalities, are very keen about the introduction of modern technology in the company, which was named Denmark's Best Workplace in 2018.
For example, MidtVask has invested in Inwatec's Soiled Side-sorting-system that automates the handling of dirty garments coming into the laundry.
"We have a goal of being among Denmark's healthiest workplaces. That is why automation and, among other things, the Soiled Side Sorting-system from Inwatec is something that really moves us in the right direction. It removes needles and removes scissors, so there is no risk of cutting. At the same time, we avoid a lot of unilateral, repeated work. So it helps to better both our competitiveness and our working environment and health," tells laundry manager Pernille Lundvang.
"There is often someone who asks if the employees are not afraid of the strong streamlining we are doing with Inwatec. No, on the contrary. If we do not optimize all we can, we will lose our work. Automation and robotics are the only way we can be competitive and ensure that we have a workplace in the future. So from all colleagues we have a great thumbs up – that's what we have to do," says Pernille Lundvang, who can also see a swift ROI on the system.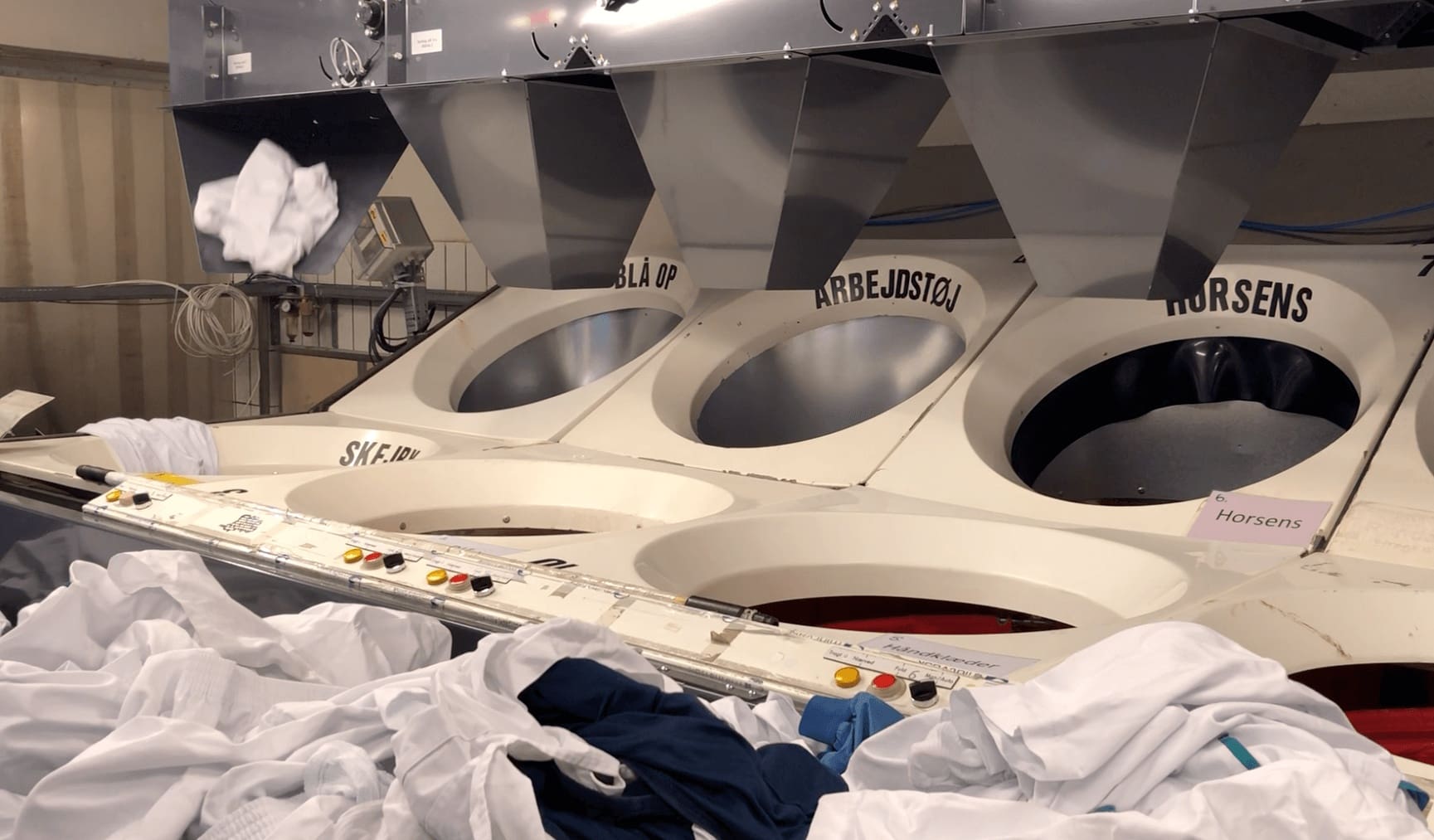 MidtVask's employees are very happy about the new X-ray scanning results
"We have saved two employees compared to our old setup. So it's a machine that has an ROI of fewer than three years. It's excellent. At the same time, our products are made with care and care for the people who work here. It is not only to raise efficiency and to lower the prices. Our customers also really like to do business with us because they know that we focus on being a workplace with great emphasis on being diverse and because we have a good working environment," she underlines.